I am so happy and still in disbelief: I am one of the winners of the 7th 35Awards photography contest. I participated in the category "urban landscape" with 4 of my black and white fine art photos. I would have never thought that I would be honoured in any way in such a huge competition of photographers. Overall there were more than 124.000 photographers in the competition.
Especially with my more or less "exotic" black and white fine art photography.
My Results in the competition
I was surprised when I opened my certificate file as it shows 7 of my achievements in this contest.
1: One of my photos will be displayed in the catalogue of the contest
2: I made it under the top 100 photographers of the overall competition (overall more than 124.000 from 174 countries participated in this contest)
3: I made the 2nd place in the category "urban landscape"
4: I am under the Top 35 photographers from Germany
5: I am in the top 10 of Berlin
6: My photos made it into the top 35 urban landscape nomination
7: All of the photos I submitted reached the 3rd and final stage of the voting process
Here is the official certificate I received from the 35Awards-Jury with some more information.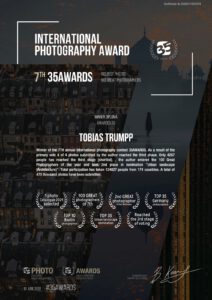 The stories behind the images
I would like to tell you something about the photos that I submitted and some stories behind them:
The "oldest" one of the series I submitted is the photo of the "Tempodrom" in Berlin. I remember it very well when I took this photo. I was in a terrible mood. I was scared. I was afraid about the future. I was worried basically about everything in my life.
It was the beginning of the Covid Pandemic. I knew that there would be no job for me as a photographer in the near future. I had no idea how things would work out; if things would work out. I felt like it was a mistake to leave my 9 to 5 job years ago as all of a sudden I was falling into a deep hole with no bottom. When I left my 9 to 5 job, I promised myself to dedicate the rest of my life to photography – no matter what. I remembered that promise and took the following decision: Use every second (and acceptable weather conditions) before the first Lockdown. Walk through Berlin and take as many long exposure photos as possible. Use the time during the Lockdown at home to process these photos to black and white fine art photos. Learn as much as possible about post processing, photoshop, masking etc. during the Lockdown when going outside is restricted / not allowd. And that's what I did. My goal was to use the terrible pandemic to become a better black and white fine art photographer.
To make a long story short: This is one of my first more or less professional black and white fine art photos. This photo was taken during really dark days in a mindset of uncertainty. This makes this photo extremely special to me on a personal level. The fact that this photo got the recognition in the 35Awards contest means the world to me.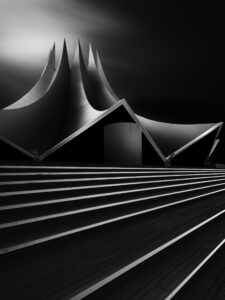 The next photo ist the "Spielbank" in Berlin. I took this photo between Lockdowns. It resided on my laptop in a folder called "walking with no plan through Berlin" for a while. Somehow it intrigud me every once in a while when I saw it. And one day I sat down, remembered the situation when I took the shot and translated that mood into my black and white fine art processing. As you can see, this photo has the same stylistic elements as the Tempodrom-photo. They belong together in my head as they fall under the umbrella "Covid Pandemic". I remember that I was listening to music and almost reached a mindset of trance and meditation while processing this image. Suddenly it was done and I couldn't really remember very much of the post processing work (and no – there were no drugs / illegal substances involved)! Here is the final result: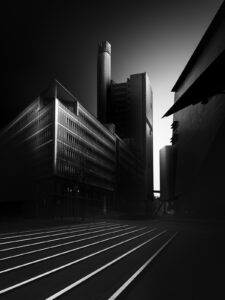 The 3rd photo I sumitted was taken in the Olympic Village in Barcelona. To be precise: It is the "Torre Telefónica" by the mastermind architect Santiago Calatrava. I was on vacation when taking this photo and I planned this photo ahead of time. I had the exact shooting angle and the visualisation of my black and white fine art processing in my head already before I took this photo. I love the shape of the tower. I love the background elements and the stairs in the foreground. What I admire and love the most however is when ordinary things are executed in a tasteful extraordinary way. This tower is – in my opinion – an architect's way to tell a city "I love you". Communication towers are usually not as beautiful (they could have put up some rusty antennas). But this tower – embedded in this surrounding is an hommage to a city, a spirit and an idea. It took me a long time to process this image due to the fine structures and masks / selections. As well, when I have a vision for a photo even before taking a photo, the black and white post processing takes longer.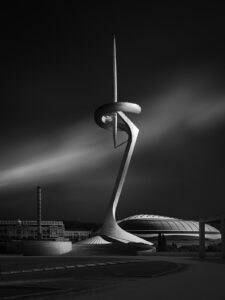 And last but not least – the youngest photo of the series I submitted for the contest. I took it in the beginning of the year in Doha.
I was hired as Immobilienfotografen-berlin to take interior and exterior photos of 3 properties for DAMAC. When planning my trip and the shooting for DAMAC I added one extra day that I could use to take photos for my black and white fine art photography portfolio. Luckily my architecture shooting went according to my plan and I really had one day for my fine art photography. One of the photos I took during that day has the title "desert balance". I stood on desert sand when I took it and I used the desert sand as a foreground element of the photo. The main element of the photo are the so called "Lusail Twin Towers". They seem to defy gravity; inviting the viewer to dance with them. In the background behind the Twin towers you see the bright tip of the "Katara Towers". This contrast between desert and high tech was extremely intriguing to me.
I consider "desert balance" as the happy end of this series.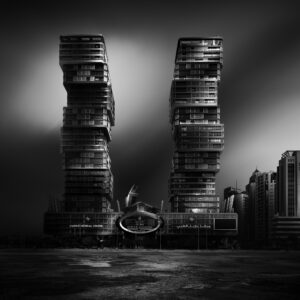 In case you want to see the site and more details of the 35 Awards – click HERE
If you'd like to see more of my personal fine art work – click HERE
Thanks for reading all the way to the end – I hope it was interesting for you to get some background info. Feel free to send me a message with some feedback or let me know if you want me to write about a specific topic in my next blogpost.
Thanks a lot & stay tuned,
Tobi